Antichrist Watch
Junno Arocho Esteves | CRUX | Source URL VATICAN CITY – Love for neighbor means being close to people, especially those facing oppression and violence for being Christian, and engaging in charitable work that reflects Christian values and promotes interreligious dialogue, Pope Francis said. Meeting with members of the Equestrian
CRUX | Source URL Pope Francis meets with the President of the Swiss Confederation and expresses his desire for the collaboration between Switzerland and the Vatican to keep growing. During an audience in the Apostolic Palace on Monday, Pope Francis addressed the President of the Swiss Confederation, Alain Berset. Pope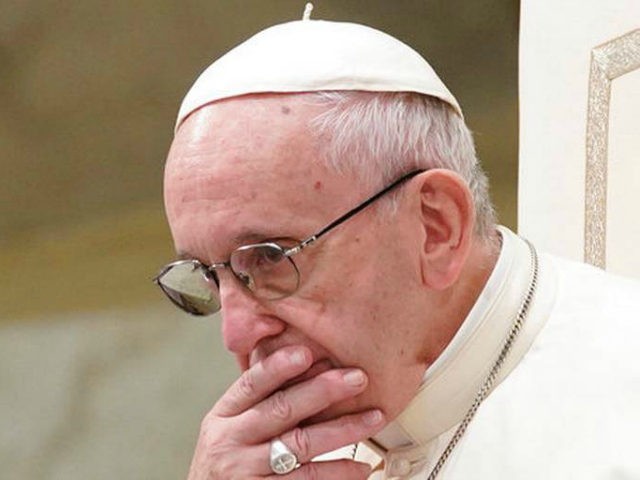 Thomas D. Williams | Breitbart | Source URL Pope Francis highlighted on Monday what he considers two main threats to humanity, namely the "immense crisis" of global warming and the possibility of nuclear war. In his address to the Pontifical Academy of Sciences, the pope urged his listeners to do all they
Claire Giangravè | CRUX | Source URL ROME – In the context of global economic uncertainty, rampant inequality and a growing trade in illegal offshore bank accounts, the Vatican on Thursday issued a document offering ethical guidelines for economic and financial systems and calling for stronger oversight by public authorities.
Carol Glatz | CRUX | Source URL ROME – Seeking Christian unity is more urgent than ever because of the ongoing persecution of Christians, Pope Francis told an Orthodox leader. Meeting with Metropolitan Rastislav, primate of the Orthodox Church in the Czech and Slovak Republics, the pope said the "suffering
Associated Press ROME – Pope Francis has confirmed he plans a brief trip to Ireland in August to attend a big Catholic family rally. Francis made the long-awaited announcement at the end of his weekly general audience Wednesday, saying he intends to go to Dublin Aug. 25-26 for the World
Evangelical
Kairos Company Charisma News The National Day of Prayer on Thursday, May 3, 2018, will focus on prayer for unity in America, announced Dr. Ronnie Floyd, the organization's president. In a leadership summit with regional coordinators and leaders of the prayer movement, Dr. Floyd announced the theme for next year's National
Peter J. Leithart FOX News On Oct. 31, 1517, Martin Luther nailed his 95 Theses, a list of propositions aimed at problems in the Roman Catholic Church, to the door of the university church in Wittenberg, Germany. He wanted to start a theological debate. Instead, he started the Reformation. As
David Marshall & Victor Hulbert, Trans-European Division News Adventist Review Exactly 500 years to the day after Martin Luther is said to have posted his 95 theses at the door of Wittenberg Castle church, Seventh-day Adventists have published a new book that explores the profound—and complicated—legacy of the Protestant Reformation.
Jessilyn Justice Charisma News Tonight, famed actor Kirk Cameron will join forces with Dr. Ben Carson, Ravi Zacharias, the Kendrick brothers and more for a two-night only event in theaters that will call Christian families back to their roots. "I think often about the fact that freedom and blessing and
NPR Five centuries ago, Martin Luther started the Protestant Reformation. The anniversary prompted a recent meeting of his descendants to discuss the legacy Luther left when he nailed his theses on a church door. SCOTT SIMON, HOST: Many Protestants around the world are celebrating the start of the Reformation five
Environmental Agenda
Hannah Brockhaus | Catholic News Agency | Source URL Katowice, Poland, Dec 4, 2018 / 03:19 pm (CNA/EWTN News).- At a UN climate change summit in Poland Monday, Vatican Secretary of State Cardinal Pietro Parolin underlined the Holy See's view that climate change is a moral issue and has an
LGBT Agenda
Samuel Smith | The Christian Post | Source URL The American Family Association is instructing parents to keep their kids at home on Friday and participate in the "Day of Silence Walkout" in response to the LGBT National "Day of Silence." The Day of Silence, which is organized by the national
The Christian Post | Source URL You may have thought I was overstating things in my recent article, "Will California Go from Banning Religious Books to Burning Them?" You may have thought I was exaggerating when I referenced LGBT activists who compared Christian conservatives to ISIS and Al-Qaeda. Be assured
Fulcrum7 Kern County Superior Court Judge David Lampe has ruled that owner Cathy Miller can continue to refuse to make wedding cakes for same sex couples. His ruling, on a motion for preliminary injunction, only leaves Miller alone until the full case comes to trial.  The next hearing on the
Fulcrum 7 `Ello fellow believers!  I bid you greetings from Hertfordshire, where the gay mob is vacillating between rainbow-flavoured outrage and blubbery distress. A gay couple have called for a vicar to step down after he refused to bless their marriage at their local church, according to the Mirror. Andrew Springett
AP via Yahoo News DES MOINES, Iowa (AP) — The University of Iowa is caught up in a legal fight with a conservative Christian student group that denied a leadership position to a student who is gay. The case pits a university policy barring discrimination based on sexual orientation against
Alisa Williams Spectrum Magazine The Andrews University Board of Trustees, which met on campus in October, has approved the creation of an official LGBT+ student support group. The statement regarding the university's commitment to providing this group appeared in the October 26 edition of the campus newspaper, Student Movement, and follows
Adventist Apostasy
Adventist Today | Source URL SPD president Pastor Glenn Townend speaks to Day One of SPD year-end meetings. VIDEO FROM ADVENTIST RECORD FACEBOOK PAGE 15 November 2018 | At its year-end meetings that were held this week at Avondale College's Lake Macquarie campus, the South Pacific Division (SPD) of the
AToday Two Adventist congregations in London (U.K.) have joined recent demonstrations against gun and knife violence. On May 7 the Pathfinder Club drum corps of the Hackney church led the march in the community in the west of metro London which included the mayor and town council members as well
Adventist News Network More than 30 people came to fellowship, play games and ask questions about the Bible. A club for the hearing-impaired, called "Interesting Encounters", from the community of Khimki, was created to help people get acquainted with Biblical truths. For them, it is necessary, not only to communicate information
Adventist Today The January issue of the newsletter published by the Adventist denomination's Michigan Conference includes an editorial by Pastor Jay Gallimore, Michigan conference president, in which he expresses concern about "websites and internet magazines their gossip blogs." Gallimore writes that these unidentified media have "mercilessly slandered" the leaders of
Kristen Conner WHNT HUNTSVILLE, Ala. – Sometime Friday evening, a bomb threat was made against Oakwood University according to a university spokesman. The Huntsville Police Department has since investigated and officers gave the all-clear for the campus just before 11 PM. Nothing suspicious has been located. Update: Huntsville Police Department
Loren Seibold Adventist Today "We are all sufferers from history, but the paranoid is a double sufferer, since he is afflicted not only by the real world, with the rest of us, but by his fantasies as well." ~Richard Hofstadter, "The Paranoid Style in American Politics" Not long ago a
Skysa App Bar